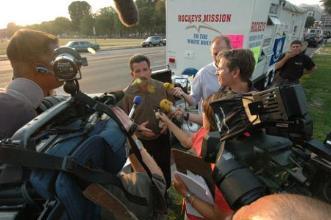 Docu-Visionary with Rockey Vaccarella in Washington D.C

Whatever your Broadcast or corporate video production needs – whether you require a corporate video or film, a music video, an event recording, conference filming, post-production facilities or equipment and crew hire – Compás Productions supplies the highest quality services at the most competitive prices.

Our past projects cover the entire range of our services, from high-impact promotional films through to information-rich training presentations or video productions to exhibition dvd's and exhibition video services to documentary and tv commercials.

We work in HD (high definition and HDV) , film, Digi-beta, Beta SP, Dvcam and a whole host of other formats – we can tailor our production solution to your specific needs and budget. In addition, as the productions arm of Compás Productions We can provide a wide array of supplementary services while concentrating on delivering our focused video production solutions.

Video production is an important business – navigate this site to learn more about us, and choose a high quality company you can trust.

Video production services offered by Compás Production services include:Corporate video production, Broadcast television production, Training and Marketing videos, Documentary production, conference filming, still/time lapse photography and Electronic Press Kits.

A direction for Compás community:

For almost a decade, Compãs Productions and Storyline FilmsServices have been producing professional quality videos for various clients in the private sector. We recognize the vitality of non-profit organizations and have served many with emotionally compelling marketing films that enhance their fundraising and communication efforts. We understand how to make our client's message resonate with their audience and compel them to act. We have assisted the American Diabetes Association with an on-air commercial in Spanish for the Diabetes Expo. We produced the PSA campaign "I Care" for the Morrell Foundation aimed at connecting Americans to the struggles and needs of Iraqi citizens. Recently Storyline Films & Compãs Productions produced a 10-minute video for the Utah Hispanic Chamber of Commerce Don Quixote Awards presentation. The recipients had been awarded for their outstanding work in the community. Storyline Films & Compás has also aided in fundraising and communication efforts of various Churches and faith-based groups within the greater Salt Lake City area. Thank you for this opportunity to be recognized. We look forward to serving more Utah businesses and non-profit organizations with quality marketing films that are visually engaging, authentic, and emotionally compelling. After all, you can't move people to action unless you can first move them emotionally.

We have experience in producing broadcast commercials, corporate communications, educational/documentary videos, DVD collateral, and web video.

KSL NewsRadio and Comcast Business Class want to spotlight the small businesses here in Utah that go the extra mile, give back to their community and have succeeded during these hard economic times.


KSL NewsRadio is proud to support the small businesses of Utah on 102.7 FM and 1160 AM.